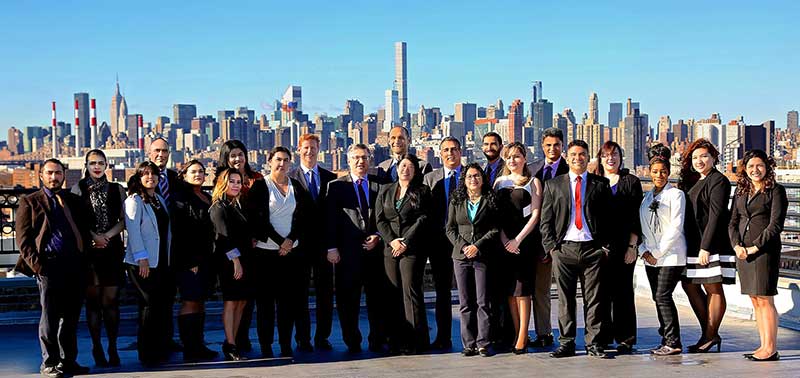 NY Workers Compensation and Social Security Disability Law Firm
About the Firm
The law firm of Pyrros & Serres LLP is located in Astoria in the borough of Queens and serves clients throughout the New York City metropolitan area. Since its inception in 2001, the firm has built a reputation for delivering high quality legal services, close personalized attention and positive results.
The high rate of referrals our attorneys receive is a mark of the respect and trust former clients, judges and other attorneys place in our law firm.
The firm, consisting of five attorneys and a strong support staff, concentrate their casework on claims involving:
Workers' compensation benefits for individuals who have been injured in the workplace or who have developed an illness or condition related to their job.
Social Security disability benefits for individuals who have a serious disability or long-term illness that prevents them from holding full-time employment.
Serious injuries and wrongful death, resulting from negligence in a broad range of accidents.
When you turn to Pyrros & Serres, LLP our attorneys and staff can get involved at any point in the claims process and help you:
Assemble all the required paperwork and file a claim
Work to expedite your case, so that you get the benefits you need as quickly as possible
Get all the benefits that you deserve
Assist you if your employer or the insurance company tries to claim that your injury or illness is not related to your job
Intercede if the insurance company stops benefits before you are ready to go back to work
Help you get a lump sum settlement
File an appeal, if your benefits have been denied
Represent you at administrative hearings or other legal proceedings
NY Workers' Compensation | Social Security Disability | Personal Injury Lawyers
At Pyrros & Serres LLP, our extensive experience, knowledge of the law and the processes governing workers' compensation and social security disability claims give our attorneys and staff the ability to deliver the quality of legal services and the positive results clients expect.
Our Queens law firm represents individuals who have been seriously injured or are suffering from conditions related to their jobs and help them get cash and the medical benefits they need through:
Workers' compensation claims including all work related injuries, construction site injuries, repetitive motion or stress injuries, occupational illness or disease, joint injuries and lifting injuries
Social Security disability claims, from the initial application for disability benefits to filing appeals on claims that have been denied.
Personal injury claims for victims of car, truck and motorcycle accidents as well as pedestrian, slip, trip and fall, premise liability and wrongful death.
If English is not your native language, our firm's attorneys and staff can communicate with you in Spanish, Greek, Italian, Portuguese, Hindi or Punjabi. We believe it is important that you are able to fully understand your legal options so that you can make informed decisions about your situation.
Contact Us
Use our online form
or call (718) 804-5430
Phone lines are open 24/7