In recognition of his skill, knowledge and effectiveness in protecting the rights of his workers' compensation clients, partner Michael C. Pyrros has been named as one of the ten best workers' compensation attorneys in the state of New York by the American Institute of Legal Counsel.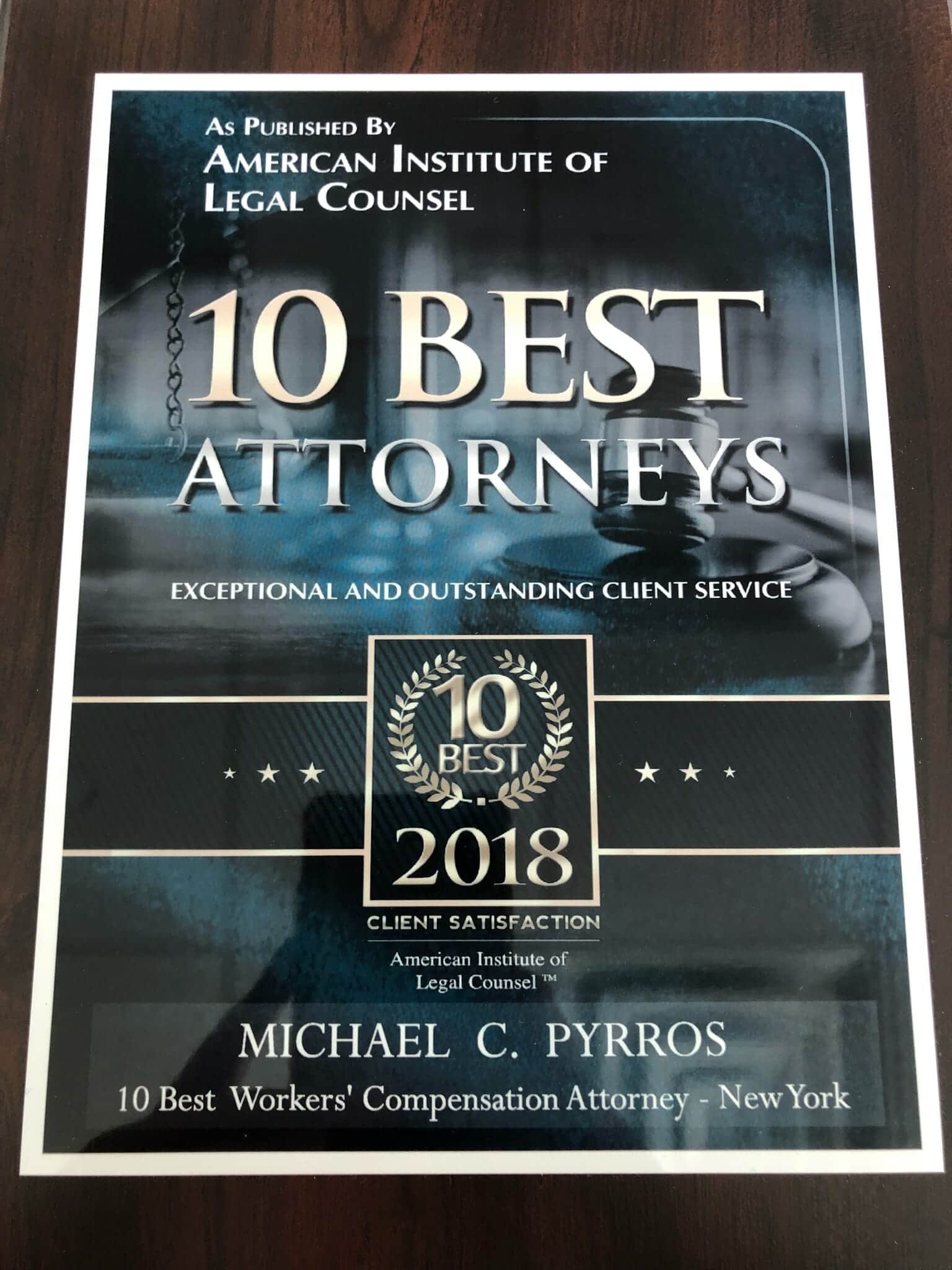 The American Institute (AILC) annually compiles a list of the ten best lawyers in each state, with ratings done in 14 different practice areas.  The AILC, an unbiased third-party organization, has specific requirements for inclusion on the exclusive list:
An attorney must have achieved the highest degree of success in his or her chosen practice area
An attorney must be nominated for the award by a colleague in the legal field, by a client or by the AILC
An attorney must have an outstanding client satisfaction rating
Attorney Pyrros, an alumnus of New York's Hofstra Law School, has devoted his entire career to the representation of injured workers, and has frequently been a guest speaker and lecturer on topics related to workers' compensation. He's served as the president of the Long Island City Lawyers Club and co-chaired the Workers' Compensation Committee for the Queens County Bar Association.
Top Ten New York State Workers' Compensation Attorney Michael C. Pyrros
Experienced Queens |NYC | Brooklyn | Bronx Workers' Compensation Attorneys
At Pyrros & Serres LLP, we handle all matters related to workers' compensation and Social Security disability claims for people in the Bronx, Brooklyn, Queens and across the greater New York City metropolitan area. Because of our reputation for effective advocacy, many of our new clients come to us as referrals from clients and other lawyers.
To learn more about the full scope of our practice, see our practice area overview page.
Pyrros & Serres LLP
Queens | NYC | Brooklyn | Bronx Workers' Compensation Attorneys